Samsung has announced a new phone in its galaxy series as named Samsung Galaxy S II Skyrocket. This phone announced together with the HTC Vivid, compatible with AT&T's all new LTE network. This Smart phone is firstly welcome to U.S Samsung Galaxy S II Lineup, LTE was the only connectivity flavor missing in the lineup so far.
This phone is almost same as the previous T-Mobile Galaxy S II, Which got so much popularity in past time and still rocks. The handset has same size and uses same hardware,except to things, first the Skyrocket does not have NFC connectivity out of the box, and the second is much easier to notice - it has LTE radio on board.
As we discussed above Samsung Galaxy S II is same as the previous T-Mobile Samsung Galaxy S II in shape as well as in hardware. The dimension of this mobile is 130 x 69 x 9.5 mm and it has weight around 130 gms. With this dimension we found this device as the quite pocketable and Light for its size and weight and very easy to carry any where else.
If we talk about the build quality it upper body is made of High Quality Plastic and with a metal bezel surroundings the edges, and a Gorilla Glass on the front of Handset. That means its Quality is like all other smart phone with Rough & Tough Body.
One unpleasant surprise we encountered was the lack of textures on the plastic back covers of the smartphne - a well Known Galaxy S II signature was missing. This makes the device quit slippery and accident prone. Their should be texture on the back cover of Samsung Galaxy S II Skyrocket to hold it without so much care and this is one big disadvantages of this phone.
At the down of the mobile there four touch sensitive buttons or whether touch buttons like rest of the U.S line Up Of Galaxy S II devices. First buttons is for use of home screen effects and apps. Second buttons is used for Came Back to Home Screen. Third Buttons is use for move back and Last is For search on Home Screen.
On the upper part of mobile, The earpiece, ambient light and proximity sensors, as well as the 2MP front-facing camera unit located in the area above the screen. We found proximity sensors are very high sensitive and useful while making calls and video calls.
At left side of the Samsung Galaxy S II Skyrocket , there are volume rockers and this volume rockers or buttons are also use in zoom and unzoom of photos while capturing a photo or video.
The Skyrocket, like the rest of the Galaxy S II family, comes with an 8MP auto-focus camera for photos of up to 3264 x 2448 pixel resolution. It comes with an LED flash but nothing in the way of lens protection or physical shutter key.
The interface looks pretty familiar with two shortcut bars on each side of the viewfinder. On the right you get the still camera / camcorder switch, virtual shutter key and the gallery shortcut (which is a thumbnail of the last photo taken).
On the left you get several controls by default but the good news is that you can pick four shortcuts to put there – commonly used features need to be one tap away.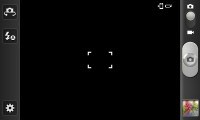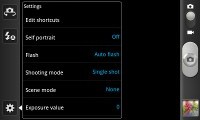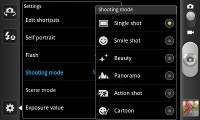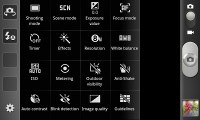 The camera interface can be tweaked to fit your needs
In terms of features, the Skyrocket offers pretty much everything – touch focus, scene modes, face/blink/smile detection, effects, geotagging, digital image stabilization and manual controls for ISO, metering mode and so on. There are other features too; we're only listing the most interesting ones.
The Galaxy S II Skyrocket makes some nice pics though the weather conditions didn't quite allows it to show the best of itself. The noise levels are well controlled and the contrast and resolved detail are fine.




Full HD video camera is up to all tasks
The video camera interface is identical to the still camera one. You get the same customizable panel on the left for four shortcuts. The video camera can record video using the front facing camera too (resolution is limited to VGA).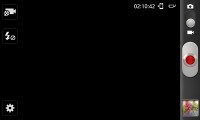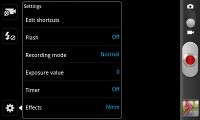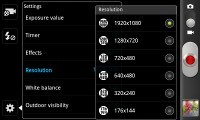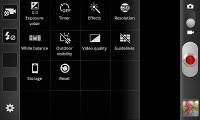 The video camera interface
The Full HD videos are top-notch, full of detail, low in noise and generally, nice and smooth. One annoying thing we noticed is the continuous auto focus tends to hunt quite a lot during video recording which can be a bugger if there are lots of moving object in the scene.
A peculiarity is that when shooting Full HD videos you have a narrower field of view than that of the still camera. Perhaps Samsung are using the same trick as Apple in the iPhone 4: the camcorder uses only the center of the 8MP sensor instead of shooting with the whole surface and having to scale it down to 1080p putting extra strain on the CPU. In 720p video capture mode however Samsung are making use of the whole sensor and as a result you have the same wide field of view as the still camera (about 30mm).
What this means for the occasional videographer is 720p videos might turn out the better option in low light as the process of pixel binning used for downsizing the information captured from the 8 megapixel sensor down to 720p actually benefits the suppression of digital noise too.
The longer focal range in 1080p mode also makes for a shakier video so you might want to look for a support for your hand while recording to get the best out of the smartphone's Full HD camcorder.
The camcorder features continuous autofocus, which is smooth though a bit slow at times.
Other than those peculiarities, the video quality is very good at 1080p – the .MP4 files come with 17Mbps bitrate and have a lot of detail. The framerate is quite consistent – there are no dropped or duplicated frames. Keep in mind that Full HD videos gobble up a lot of storage – a minute of video will easily top 100MB of file size.
720p videos are nice and smooth too, but obviously short of the resolution.
Here are a few videos Samsung Galaxy S II Skyrocket for you to enjoy. The last one was shot in 720p resolution, while the first one is in 1080p (don't forget to select 1080p mode when playing it and certainly open it full screen).
The Samsung Galaxy S II Skyrocket (hereafter referred to as the "Skyrocket", because I've got other stories to write this week) is pretty much exactly what it sounds like: an update to the already solid AT&T version of the SGSII. Notable improvements include a slightly bigger 4.5-inch screen, a bigger 1850 mAh battery, a bump up to a 1.5Ghz dual-core processor, and of course an LTE radio. Otherwise, the Skyrocket looks and feels exactly like its forebear. The construction is quite light (for such a large phone) at 4.65 ounces, though the plastic components feel a little on the cheap side, especially the flimsy battery cover.
Like all Samsung phones as of late, the power button resides on the right side. Check out the left-side volume rocker, a MicroUSB port on the bottom and the headphone port on the top. Lever the battery cover open and you get access to the LTE mini-SIM and the empty MicroSD card slot, which is – yes! – accessible without removing the battery. For those who were wondering, yes, the Skyrocket does have NFC capabilities. Internal storage is a generous 16GB. In the packaging you get your basic wall adapter and microUSB cord, plus a free pair of headphones with an in-line microphone.
The screen is the Super AMOLED panel we've come to respect, but unfortunately Samsung's gone with the same 800 x 480 resolution as the Galaxy S and S II. Don't get me wrong, it's still a great-looking screen, with the expected vibrant colors and awesome viewing angles. But with high-end phones reaching towards five-inch screens, I'd like to see at least a qHD panel (like the Vivid, which unfortunately has a lowly LCD) to take advantage of the

real

estate

. You can definitely notice the lower resolution on a jumbo-sized panel.
The Samsung Galaxy S II Skyrocket starts off with the basics – quad-band GSM/GPRS/EDGE and quad-band 3G (T-Mobile's AWS band is missing though). There's HSPA+ with 21Mbps downlink and 5.76Mbps uplink too, which some carriers brand as "4G" even though it's technically not.
The real deal in terms of connectivity options of the device is the inclusion of LTE capability. Sadly however, New York City is still not among the areas covered by AT&T yet. It should happen any moment though.
Moving on, there's Bluetooth 3.0 with High Speed, which promises transfer speeds up to 21Mbps. Wi-Fi Direct is a similar technology, which offers simple pairing of two devices but blazing speed.
The Wi-Fi support includes a/b/g/n versions, with both 2.4GHz and 5GHz band compatibility.
There's also NFC support too. We have the strange suspicion that the NFC chip might be integrated into the battery as it carries NFC sign. A dedicated app however, is notably missing.
The AllShare app allows you to stream content to and from different kind of devices (TV or computer). We didn't give it a proper run for its money, but we guess it works over DLNA.
And finally, for wired connectivity we have the MHL port. By all appearances it is a normal microUSB port and works as one (a charger port as well). But the MHL port enables video output by using a MHL-to-HDMI dongle.
TouchWiz phones: if you've seen one, you've seen 'em all. Samsung's custom UI is here once again, and if you're a fan, there's nothing to dissuade you – except for some strange slowdown on the homescreen and app launcher. It's really odd: I've seen phones with much lower specs handle TouchWiz without complaint, but on the Skyrocket slight jumps and jitters are clearly visible, even with a minimal RAM load. It doesn't take away from the experience or the generally pretty iPhone-esque interface, it's just annoying to see this little flaw on a phone with so much horsepower.
And on just about everything else, the Skyrocket, well, flies. The customized browser scrolls without any issue, switching between apps is fast, even opening up traditionally slow stuff like the camera app or a full software list blazes. And it should: the Skyrocket's 1.5Ghz processor scored nearly 2500 on the Quadrant benchmark, obliterating the HTC Vivid's score of 1680. Some quick tests with Wind-Up Knight and Reckless Racing bore it out: this phone is fast. Gamers, if you're looking for something that will stand up to the latest 3D releases, this is it.
There's a pretty significant load of AT&T bloatware on the phone, but at least some of it is user-removable. Some of the apps that insist on cluttering up the launcher are AT&T's QR code reader, AP Mobile, and AT&T Navigator (seriously, why?). None of them seem to be hampering the considerable performance, however. Gingerbread is the main course here, but AT&T has already promised to upgrade the Skyrocket to Ice Cream Sandwich.
The web browser is excellent
While the interface of the Android web browser has hardly changed, the hardware specs of the Samsung Galaxy S II Skyrocket propel it to great heights of user experience. The large, sharp display with great colors makes reading a joy.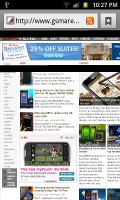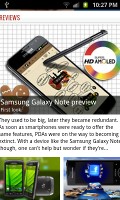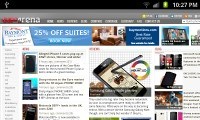 The browser supports both double tap and pinch zooming along with the new two-finger tilt zoom. There are niceties such as multiple tabs, text reflow, find on page and so on. A neat trick is to pinch zoom out beyond the minimum – that opens up the tabs view.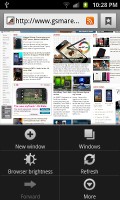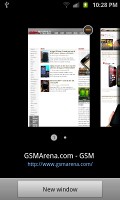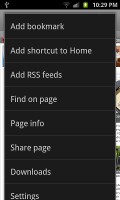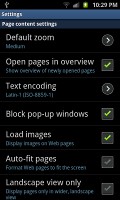 Page options and settings
The battery is larger than the one on the SGSII by a good margin, the better to supply that power-hungry LTE radio. Though most of the time I was on HSPA+, the phone lasted all day and through an idle night with 30% battery remaining, a solid showing.
Key Features
Quad-band GSM and dual-band 3G support

21 Mbps HSDPA and 5.76 HSUPA support

LTE network connectivity

4.52" 16M-color Super AMOLED Plus capacitive touchscreen of WVGA (480 x 800 pixel) resolution

Android OS v2.3.5 with TouchWiz 4 launcher

1.5 GHz Scorpion dual-core CPU, Adreno 220 GPU, Qualcomm Snapdragon S3 chipset, 1GB of RAM

8 MP wide-angle lens autofocus camera with LED flash, face, smile and blink detection

1080p HD video recording at 30fps

Hot swappable SIM and microSD cards

Dual-band Wi-Fi 802.11 b/g/n support

GPS with A-GPS connectivity; Digital compass

16GB internal storage, microSD slot

Accelerometer, gyroscope and proximity sensor

Standard 3.5 mm audio jack

Charging MHL microUSB port and TV-out (1080p) support

Stereo Bluetooth v3.0

Great audio quality

Slim waistline at only 9.5mm and low weight (130g)

2MP secondary video-call camera

Full Flash support and GPU-acceleration for the web browser permit 1080p flash video playback

Document editor

File manager comes preinstalled

The richest video format support we have seen
So that's All About Samsung Galaxy S II Skyrocket and Stay connected to know more review of Handsets.